Cosmetic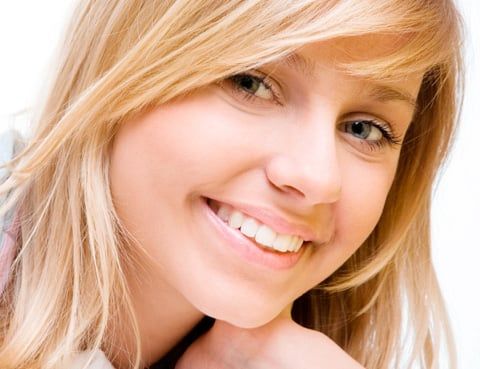 Idaho Falls Dental Group, provides a variety of cosmetic services to enhance your smile. We provide all of our patients with the most up-to-date and hi-tech cosmetic dental services. Please click on the menu buttons for detailed descriptions and animations of the cosmetic dental services and treatments available in our office.
Tooth whitening is the #1 requested and performed cosmetic dental procedure. Tooth whitening is a procedure that lightens teeth and helps to remove stains and discoloration.
A thin coating forms on your teeth throughout the day, which attracts stains. The tooth's enamel contains pores that hold stains. Cavities need to be treated before teeth are whitened because the whitening solution can penetrate decay and reach inner areas of the tooth, which can cause sensitivity. Receding gums can cause roots to become exposed. Whitening will not work on exposed tooth roots, because roots do not have an enamel layer. Whitening also does not work on tooth restorations such as crowns or veneers.
Whitening can be done in the dental office or at home.
Veneers are a thin, semi-transparent tooth shaped "shell" that are custom made of porcelain. They are permanently bonded to your natural teeth which are located in your "smile zone" to enhance their shape, color, length or size.
Veneers can fix gaps between teeth and/or improve the appearance of teeth that are discolored, misshaped or misaligned.
Procedure:
1) The teeth are cleaned and any old surface restorations are removed.
2) An impression is taken of the prepped tooth and sent to a lab where a veneer is fabricated.
3) The veneer is applied with bonding resin and curing light.
4) After the veneer is set, it is shaped and polished to look like a natural tooth.
There is now new technology that allows you to replace old silver and gold fillings with a more natural looking, composite filling. Composite fillings are bonded to the tooth and research has proven them to be about 90% as strong as healthy, natural tooth material.

Other Benefits:
- Beautiful in appearance
- Completed in a single visit
- No filling leaks
- Less chance of tooth cracking
Bonding is among the easiest and least expensive of cosmetic dental procedures.
The composite resin used in bonding can be shaped and polished to match the surrounding teeth.
Most often, bonding is used for cosmetic purposes:
To improve the appearance of a discolored or chipped tooth
To close slight spaces between teeth
To make teeth look longer
Or to change the shape or color of teeth
If your smile is in need of a makeover, crowns can provide predictable results. Crowns can give an unattractive tooth back its beautiful shape and color. For smaller or worn down teeth, a crown can restore the natural size of the old tooth. A crown can replace either part of or the tooth's entire structure. For procedures requiring only the areas visible from the outside, a veneer may be an alternative option.
The 'gold' standard. Dental gold is about 60% gold alloy which is meant to match the hardness of the enamel of opposing teeth so both wear about evenly, an important trait.Gold does not tarnish or corrode and has some bacterial inhibiting quality. Gold crowns are strong and will not break. However, gold crowns obviously are not considered esthetic; they are gold colored. So usually gold crowns are used for lower back molars because they don't show there.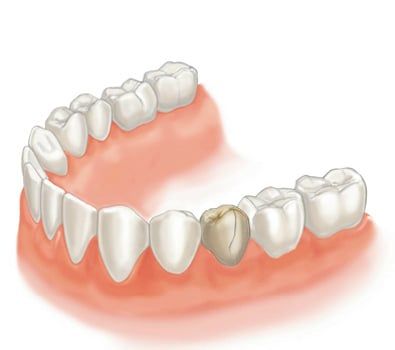 These are very esthetic, bonded crowns. They are mostly used for front teeth because they are the most natural looking type of crown and are often used in 'cosmetic' dentistry. There are many types, but they all have a common feature - no metal. They can occasionally break, but dental technology has advanced far enough to make them quite strong.