crown bridge
When teeth are missing, a bridge may be used to replace a single tooth as well as multiple teeth. A bridge consists of both a false tooth, called a pontic, and the anchors (abutment crowns) that support the pontic. The entire structure spans the space vacated by the missing tooth and the adjacent teeth.
Neighboring tooth structure is removed shaping them to receive an anchor crown. An impression is then taken and sent to a dental lab where they fabricate the bridge.
The structure part of the bridge is created with a strong metal alloy that can handle the anticipated stresses.
Tooth-like porcelain is then fused to the structure. Once the bridge is tested for a correct fit, the anchor crowns are cemented to the neighboring teeth.
The 'gold' standard. Dental gold is about 60% gold alloy which is meant to match the hardness of the enamel of opposing teeth so both wear about evenly, an important trait.Gold does not tarnish or corrode and has some bacterial inhibiting quality. Gold crowns are strong and will not break. However, gold crowns obviously are not considered esthetic; they are gold colored. So usually gold crowns are used for lower back molars because they don't show there.
This is most common type of crown and has a proven track record. PFM crowns are fairly aesthetic and they look like real teeth. However, the margins or borders may appear dark because PFM crowns have a metal substructure with layers of porcelain fired over the substructure. Porcelain is very hard, much harder than natural enamel and may cause excessive wear of the enamel of opposing teeth. Porcelain may break with extreme biting forces.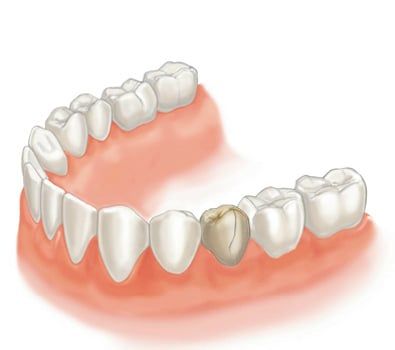 These are very esthetic, bonded crowns. They are mostly used for front teeth because they are the most natural looking type of crown and are often used in 'cosmetic' dentistry. There are many types, but they all have a common feature - no metal. They can occasionally break, but dental technology has advanced far enough to make them quite strong.
If your smile is in need of a makeover, crowns can provide predictable results. Crowns can give an unattractive tooth back its beautiful shape and color. For smaller or worn down teeth, a crown can restore the natural size of the old tooth. A crown can replace either part of or the tooth's entire structure. For procedures requiring only the areas visible from the outside, a veneer may be an alternative option.
When you come into our Idaho Falls, ID office and talk to one of our doctors, they may feel that your best option to replace a single lost tooth is a bonded bridge. A bonded bridge consists of two parts. The first is a false tooth, called a pontic and the second are 'wings' that support the pontic. The entire structure spans the space vacated by the missing tooth giving you a natural looking replacement without damaging surrounding teeth. Neighboring tooth structures are allowed to remain the same and the wings of the bonded tooth are attached behind the neighboring teeth.
So don't put off that dentist appointment one more day. Pick up the phone and call Idaho Falls Dental Group at (208) 525-8383 and setup an appointment to replace that missing tooth today. You will be so glad you did.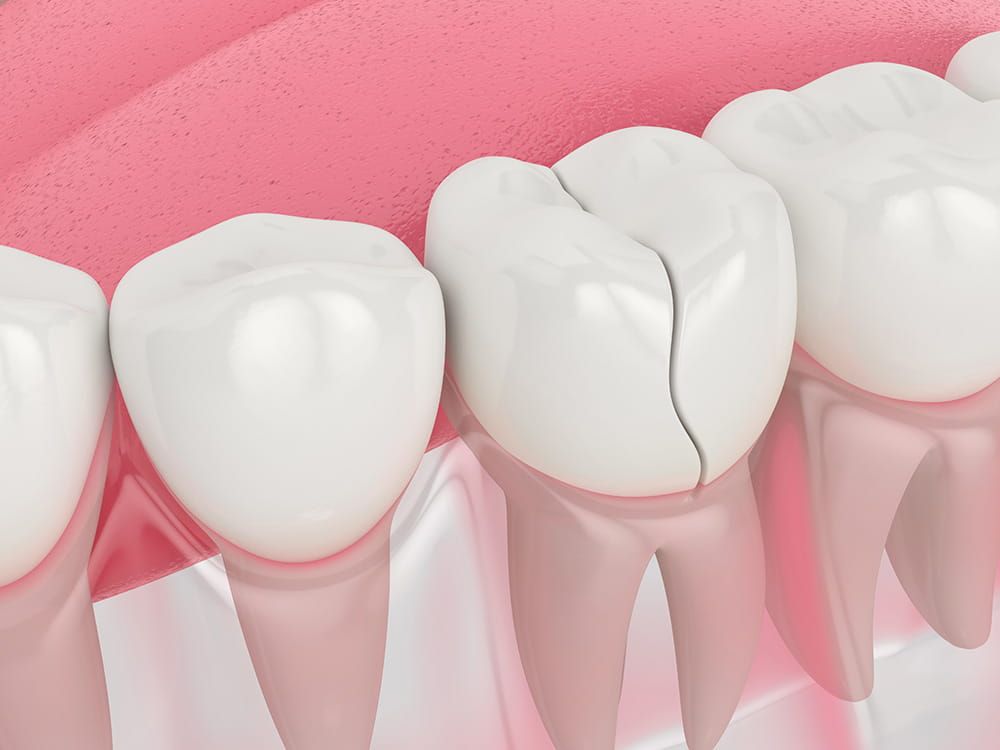 There are many types of cracked teeth. The treatment and outcome for your tooth depends on the type, location and severity of the crack.

Unlike a broken bone, a fracture in a cracked tooth will never heal. Early diagnosis is important, even with high magnification and special lighting, it is sometimes difficult to determine the extent of a crack.

A crown will bind and protect the cracked tooth. When a crack reaches the tooth root, root canal treatment is frequently needed to treat the injured pulp. A cracked tooth that is not treated will progressively worsen, eventually resulting in the loss of the tooth.