Endodontics
A root canal may be needed if the decay has reached the tooth's nerve.
Essentially, a root canal involves cleaning out a tooth's infected root, then filling and sealing the canal.
Procedure:
1) An opening is made through the crown of the tooth into the pulp chamber.
2) The pulp is removed, and the root canals are cleaned, enlarged and shaped.
3) The infected area is medicated.
4) The root canals are filled.
5) The crown opening is filled with a temporary filling.

Causes of a Root Canal
A cavity that has been left untreated can become larger. Once the cavity reaches the pulp of the tooth, an infection forms at the base of the root canal, causing an abscess. This abscess is generally painful and will need to be removed.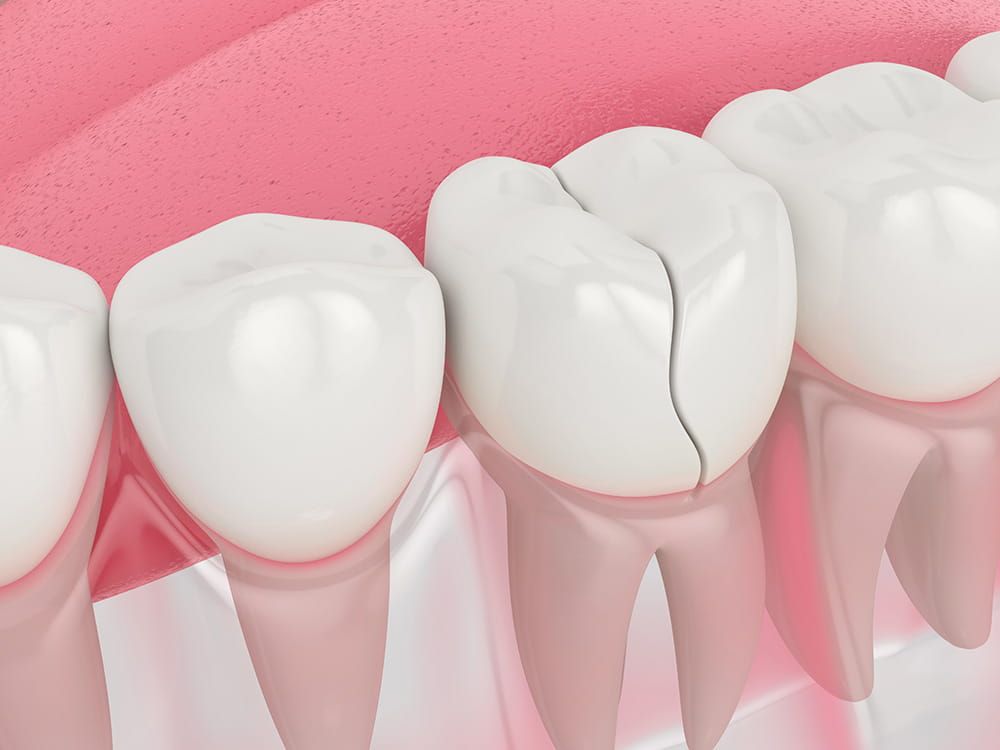 There are many types of cracked teeth. The treatment and outcome for your tooth depends on the type, location and severity of the crack.

Unlike a broken bone, a fracture in a cracked tooth will never heal. Early diagnosis is important, even with high magnification and special lighting, it is sometimes difficult to determine the extent of a crack.

A crown will bind and protect the cracked tooth. When a crack reaches the tooth root, root canal treatment is frequently needed to treat the injured pulp. A cracked tooth that is not treated will progressively worsen, eventually resulting in the loss of the tooth.
When there is not enough tooth structure remaining after trauma, decay or a root canal procedure, then a post and crown will be utilized to restore the tooth to full form and function. A crown buildup is either composed of a bonded composite material or possibly an amalgam material. If a crown is placed on an unstable tooth foundation you will have a higher risk of having that crown fail. When the tooth has lost significant structure then a buildup is necessary in order to provide proper support of the new crown and to bring the tooth back to full function.
The 'gold' standard. Dental gold is about 60% gold alloy which is meant to match the hardness of the enamel of opposing teeth so both wear about evenly, an important trait.Gold does not tarnish or corrode and has some bacterial inhibiting quality. Gold crowns are strong and will not break. However, gold crowns obviously are not considered esthetic; they are gold colored. So usually gold crowns are used for lower back molars because they don't show there.
This is most common type of crown and has a proven track record. PFM crowns are fairly aesthetic and they look like real teeth. However, the margins or borders may appear dark because PFM crowns have a metal substructure with layers of porcelain fired over the substructure. Porcelain is very hard, much harder than natural enamel and may cause excessive wear of the enamel of opposing teeth. Porcelain may break with extreme biting forces.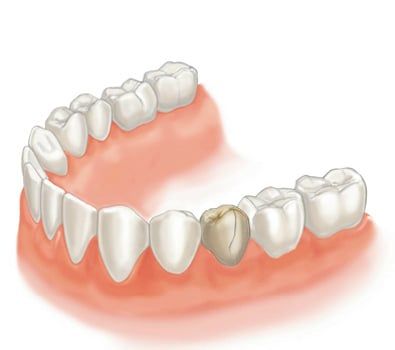 These are very esthetic, bonded crowns. They are mostly used for front teeth because they are the most natural looking type of crown and are often used in 'cosmetic' dentistry. There are many types, but they all have a common feature - no metal. They can occasionally break, but dental technology has advanced far enough to make them quite strong.