Pediatrics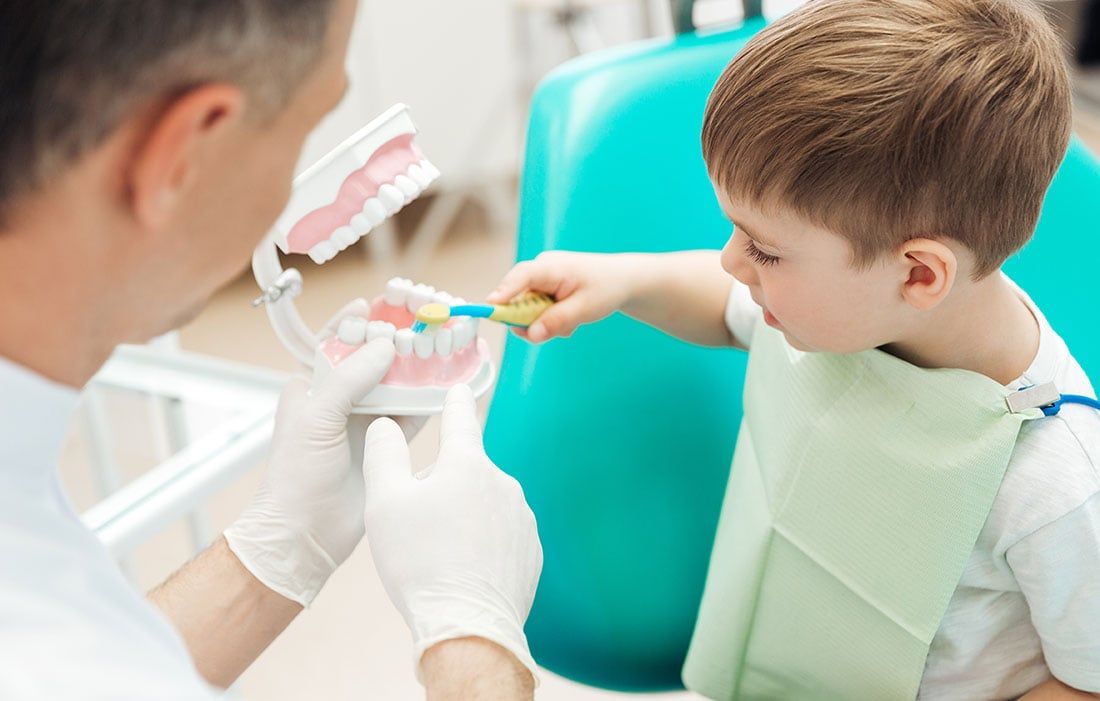 We explain to the child what is going to happen and generally provide a fun interesting experience for the child. We carefully examine the development of their mouth including crowding, appearance of calcium deposits, abnormality in the number of teeth, baby bottle tooth decay, gum disease, TMJ, and signs of prolonged problems such as thumb-sucking and teething. We take x-rays when needed. We clean and polish teeth and apply fluoride when needed. We explain how a healthy diet relates to healthy teeth and we demonstrate the correct way to brush the teeth.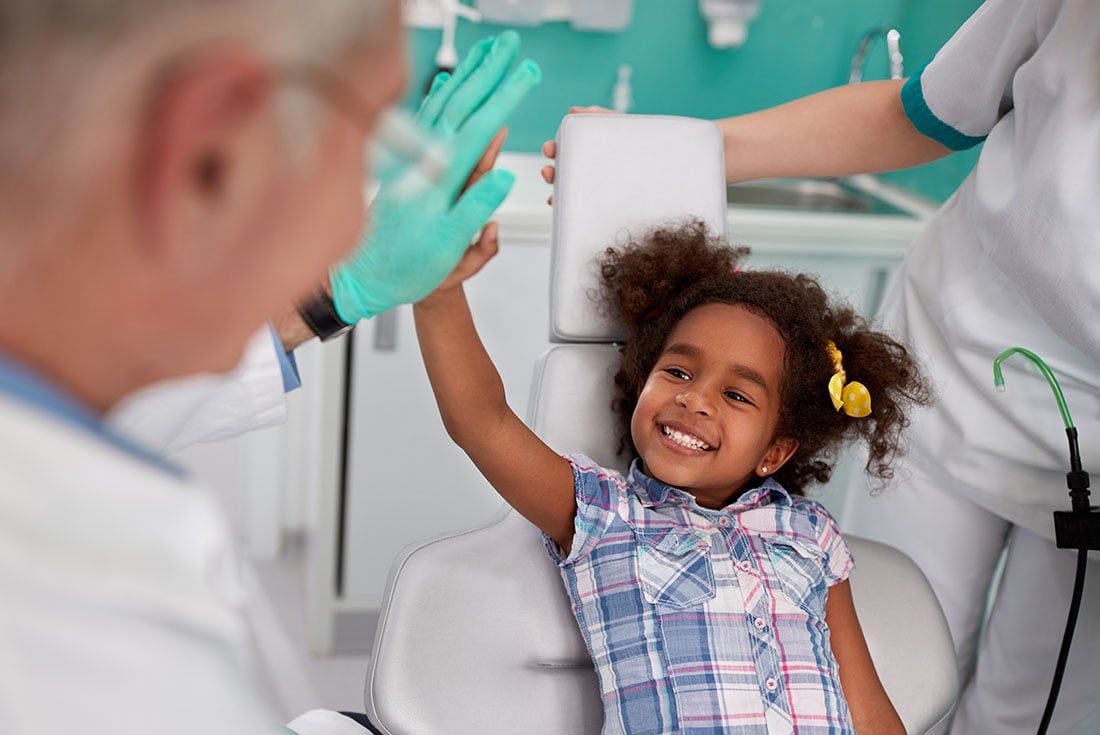 In general, children need x-rays more often than adults. Their mouths grow and change rapidly. They are more susceptible to tooth decay than adults. The American Academy of Pediatric Dentistry recommends x-ray examinations every six months for children with a high risk of tooth decay. Children with a low risk of tooth decay require x-rays less frequently.

X-rays allow dentists to diagnose and treat health conditions that cannot be detected during a clinical examination. If dental problems are found and treated early, dental care is more comfortable and affordable.
X-ray films detect:
- Cavities
- Erupting teeth
- Diagnose bone diseases
- Evaluate the results of an injury
- Plan orthodontic treatment

Particular care is applied to minimize the exposure of young patients to radiation. With contemporary safeguards, the amount of radiation received in a dental x-ray examination is extremely small. The risk is negligible. In fact, dental x-rays represent a far smaller risk than an undetected and untreated dental problem.
Children continually get new teeth from age 3 months to the age 6 years. Most children have a full set of twenty (20) primary teeth by the time they are 3 years old. As a child nears the age 6, the jaw grows making room for the permanent teeth. At the same time, the roots of the baby teeth begin to be resorbed by the tissues around them and the permanent teeth under them begin to erupt.
Primary teeth are just as important as permanent teeth for chewing, speaking and appearance. They also serve as placement holders for the permanent teeth. Primary teeth also provide structure to help shape the child's face.
Now known as 'Early Childhood Caries' is an aggressive form of caries that occurs in infants and very young children. It is typically associated with prolonged consumption of liquids containing sugar, and affects initially the top front teeth, later spreading to other 'baby teeth'. Because of the aggressive nature of this disease, early intervention is necessary.The American Academy of Pediatric Dentistry (AAPD) and the American Academy of Pediatrics (AAP) recommend that ALL children should see a dentist before age one.
Healthy teeth are important to your baby's overall health. Teeth help your baby chew food and form words and sounds when speaking. They also affect the way your baby's jaw grows.

Every baby is different. Generally, the 2 front teeth start to appear between 4 and 7 months of age. Teething is usually painless, but it can make some babies uncomfortable and fussy. Giving your baby a cold teething ring or a cold washcloth to chew or suck on may help. Teething does not cause a fever. If your baby has a fever, you should talk to your doctor.

Start cleaning your baby's teeth twice a day as soon as the first tooth appears. Until your child is 1 year old, you can use a wet wash cloth or gauze to clean your baby's teeth and gums. At about a 1 year to 18 months of age, you should start using a soft baby toothbrush and a small dab of toothpaste that does not have fluoride in it. This type of toothpaste is safe for your baby to swallow.

Be sure to take your baby to a dentist by his or her first birthday, especially if there is a high risk for cavities or any other problems with his or her teeth. It is better for your child to meet the dentist and see the office before he or she has a tooth problem.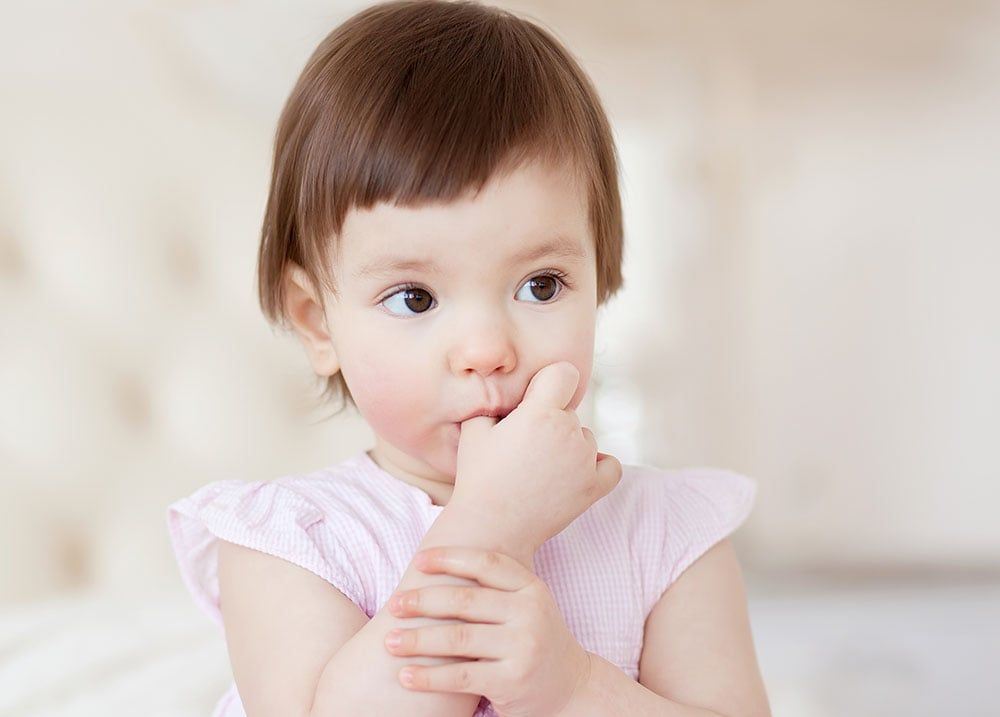 It is completely normal and healthy for your baby or young child to suck on a thumb, finger, or pacifier. If children stop the habit by 4 to 5, the shape of the jaw is usually not affected and the teeth grow in normally. Children who continue sucking on a pacifier, finger, or thumb when their permanent adult teeth start to come in are more likely to have bite problems.

Sucking can cause:
- The top front teeth to slant out
- The bottom front teeth to tilt in
- The upper and lower jaws to be misaligned
- The roof of the mouth to be narrowed
- The need for braces

Treatment:
Your doctor may decide to construct an appliance to discourage thumb sucking.
Fluoride has been proven effective in helping to prevent tooth decay. Fluoride, in very small concentrations, naturally occurs in well water in some areas, and is artificially injected into urban drinking water in other areas. There is little or no fluoride in the drinking water in the greater Idaho Falls area. As an alternative, 'Topical Fluoride' is often used to help fight cavities. Topical Fluoride is not ingested as with drinking water, but is placed on the outer enamel surfaces of teeth in order to harden the enamel against acid attacks the initiation of tooth decay. There are several vehicles by which topical fluoride is applied. It is present in most toothpastes. Some over-the-counter mouth rinses have fluoride. There are prescription strength fluoride rinses, toothpastes and gels. Topical fluoride treatments are routinely done during check-up and cleaning visits for children at the dentist office. A relatively new product, called fluoride varnish, can be placed on decay prone areas on teeth at the dentist office. When used properly, fluoride is still one of the best decay fighting techniques we have in dentistry today.
Sealants are a proven way to help prevent cavities. Although sealants do not take the place of proper oral hygiene, they do prevent bacteria from getting into the deeper crevices in a tooth's biting surface.
However, sealants can only protect the biting surfaces of the teeth and not the sides. Sealants may gradually wear out or break and need to be replaced.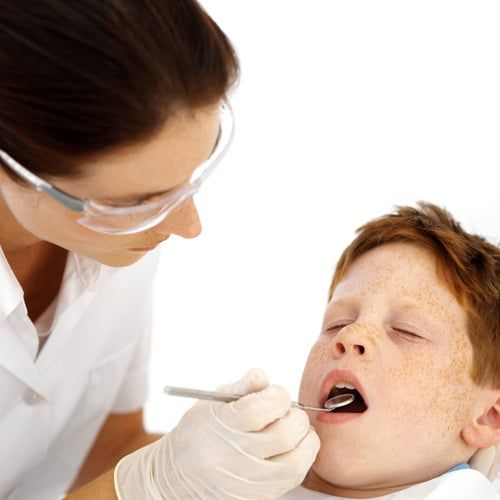 Baby teeth that have large caries (cavities) and some degree of pain occasionally require that the "coronal" (top) portion of that tooth's nerve be removed before a filling or a crown (preferably) is placed. The main goal of this procedure is to preserve the baby tooth, since baby teeth help to maintain adequate room for the permanent teeth. Pulpotomies have published success rates that range from 60% to 90% and represent a good and reliable way to save a badly decayed baby tooth.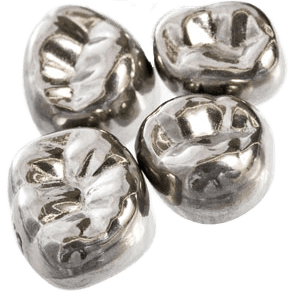 Stainless steel crowns, also known as 'silver crowns or caps', are a very common procedure used to restore 'baby teeth' (and occasionally permanent teeth) that have large caries or those that had a pulpotomy (baby root canal). Although most teeth can be filled with a white or silver filling material, stainless steel crowns are by far the most predictable and durable option to fix 'baby teeth' with large caries, large defects, or damaged enamel. This is particularly true in very young children that have caries at a young age, since it is preferred that the 'fixed' teeth last as long as possible.